EDIT MAIN
Senior Picture Guidelines for the GHS Yearbook
Dear Class of 2021 students and parents:
It's time to plan for your senior photos. You have the option to choose where you have your photographs taken, so talk to your friends and family for recommendations about the photographer who will work best for your family. No matter who you choose, the guidelines for senior photos are as follows.
Basic Senior Photo Requirements:

The photograph must be of professional* quality (no cellphone photos, Facebook profiles, or selfies).
The photograph must be vertical (portrait - not landscape orientation).
Full-body shots are not recommended as they do not reproduce well in the yearbook.
The photograph must be full-color.
The photograph may be taken indoors or outdoors.
No writing, watermarks, or signatures on the photograph.
No animals/pets, firearms, tobacco, alcohol, etc. in the photograph please.


Technical Requirements:
The photograph should be cropped for a vertical 4x5 aspect ratio.
A minimum size of 4" x 5" @ 240 dpi is requested for photographs (300 dpi is preferred).

Accepted formats are JPG or PNG.

Photographs may be submitted via email to bcoll@jagschools.org

Please include the student's name in the subject line of the message.


Photos will also be accepted at the High School office on CD.

Please do not submit printed photos, they do not reproduce well in the yearbook.
* Your Senior year can get expensive. You do not need to hire a professional photographer, if you or someone you know has a good camera that's fine. If a Senior Photo is completely out of your family's budget, please contact Mr. Coll as soon as possible to discuss your options.
Please follow these guidelines as closely as possible. Photos not meeting the requirements will be evaluated on a case-by-case basis and may not be accepted for inclusion in the yearbook.
All Senior Photos are due to Mr. Coll
by DECEMBER 31, 2020
Best regards,
Mr. Coll
GHS Yearbook Adviser
bcoll@jagschools.org
What is The Bureau?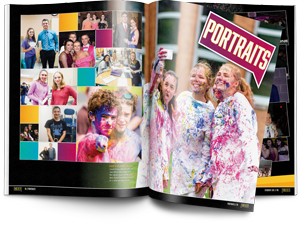 The Bureau is the yearbook of James A. Garfield High School. Members of the yearbook staff gain skills in one or more of the following areas: page design, advanced publishing techniques, copy writing, editing and photography while producing a creative, innovative yearbook that records school memories and events. This extracurricular places an emphasis on journalism, layout and design. All of our members are expected to attend and report on athletic, fine art, and other extracurricular events.
Meeting Times:

The team meets in Room 111 every Wednesday from 2:45 PM - 4:00 PM.
Join Our Team:

The yearbook team is in need of:
Writers, Photographers, and Designers.
Email Mr. Coll (bcoll@jagschools.org) to join the team!
---